Most people think that having a baby shower is going to cost them a small fortune. Some do, so don't get me wrong but it is possible to throw a Baby Shower on a tight budget and for it still to look and be amazing.
If you are asked or if you volunteer to throw a baby shower for you friends or family, be prepared! The cost can quickly add up and you might be shocked at how much you actually need to spend to throw a Baby Shower BUT if you do your homework and really stick to a budget you will be able to throw an amazing Baby Shower for cheap.
Then you might go crazy on a give for the Mom to Be but again watch your budget and you can get amazing gifts, which are inexpensive but look expensive (but that is for another post.) lol
I have thrown a couple of baby showers in the past, plus my own and I can say without a doubt that you can have the most amazing party without blowing the budget and I am happy to help you do it. My tips and tricks that i have learned along the way are yours as well.
Here is how to throw a baby shower on a budget.
Lets start at the very beginning, if this is your first time and you want to learn the best and easiest steps then I would love to share them with you. you are probably asking "How do you throw a baby shower for cheap?" Well it can be done and it can still be amazing. You really don't have to spend an absolute fortune to have a wonderful time
How To Throw a Baby Shower on a Budget from the Beginning
Firstly I am going to offer you some very handy tips you can use to save money from the gecko. Ask me how I know but a baby shower can quickly become very expensive. BUT don't despair there are many ways you can save cash before anyone even walks in the door.
How do you throw a baby shower on a budget? You are probably wondering how you can do it with so many gorgeous things you want straight out the gate!
(THIS POST CONTAINS SOME AFFILIATE LINKS FOR YOUR CONVENIENCE: READ MY FULL DISCLOSURE POLICY)
Keep the baby shower intimate and save money on a baby shower, the less people the cheaper right. I know this might be hard as your friend might want loads of family as well as friends but this is not a wedding you have to invite great Aunty Mary twice removed on your husbands side. !!! This is her special shower for a new life she is making and she can have a smaller intimate group.
Cut overlapping shower guests. This might seem harsh but, try to keep your invite list small. If a co-worker is throwing the mom-to-be a work shower, then they don't need to come to this shower as well oh unless they are very close friends.
Make your own invitations or use invitations online or even better start a private facebook group or invitation request, this can save you $40-$80 straight away.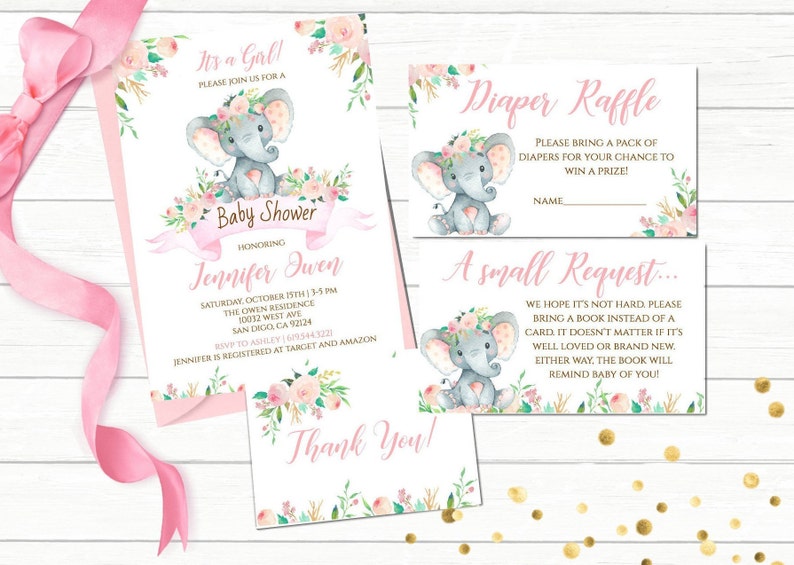 Baby Elephant Baby Shower Invitation

Having a baby shower at a restaurant or hall can be expensive so why not have it at your house or the in-laws or even at the Mom to be's if she wants it there.
Having it outside is also fun and it can be in the back yard or at a lovely park close by.
If you have it mid morning or mid afternoon then you will be able to save a lot on food as your guests will not expect to be fed a lunch or dinner they will know it will just be appetizers and light snacks, you could also make it no alcohol as that would cut the bill right down.
Baby showers should be only for the ladies, so they can have a real girlie day I am sure the boys will not mind not being invited. (they can stay home with the kids) This can save loads of money as men eats lots and drink too. Remember this is not a Football party this is a relaxed baby shower so no stress is allowed.
If you have friends or family offering to help… take them up on it the more the merrier I say.
Lets talk Food and Drinks:
Food will be one of the most expensive things at a baby shower well at any party really! Need some ideas to help cut some costs?
Grazing tables are huge trend at the moment but it still adds up but you could ask all the guests to bring a plate. You can even ask some to bring savory and some to bring sweets so you don't have 5 cheesecakes!!! If guests bring nibbles or small snacks you can put them out on a grazing table for everyone to just help themselves.
You could make a game of it and bring something your craved when you were pregnant and i am sure it will have lots of people in stitches when you see what they craved (like ice cream and fries together) This will be loads of fun and it keeps the expense down and believe me guests don't mind bring a plate.
Shop around to get some great bulk deals at Costco, Walmart and BJ's party food that are significantly less expensive than the ones in regular grocery stores. Like Sausage rolls, party pies, cocktail sausages etc!
Here is how to throw a baby shower on a budget and make it extra festive with decorations!
Baby Shower Decorations
A party is nothing without decorations so I would spend most of my time on getting this looking good and believe me you don't have to spend a small fortune. So many great ideas on Pinterest for DIY and Easy and Simple Party Decorations.
You can make your own tissue paper balls or loads of garland ideas. Tissue paper is very affordable and you can make some really pretty decorations out of it. String, scissors and glue is all you really need.
Home made streamers, paper flowers loads of balloons or even attempt a Balloon Garland. Looks amazing and is way cheaper to make than to have a company make it for you.
Related: Popular Baby Showers Themes For Girls
Related: Popular Baby Showers Themes For Boys
Party Favors or No Favors?
You can have a baby shower giving out favors that will not cost you an arm or leg. Although I personally don't feel you need to give favors out to the guest that is just my personal opinion.
However, if you feel strongly that you want to throw a baby shower with party favors, here are some cheap and cute favor ideas for you.
How To Throw a Baby Shower on a Budget with Inexpensive Favors
'Ready To Pop" these favors are an great idea so cheap t make and really cool idea. Easy to DIY yourself clear treat bag, popcorn and a nice little ribbon (Pink or Blue if you like) and a little sticker saying "Ready to Pop"
Nail polish with a little tule around them and a ribbon perfect idea and can be for either a girl or boy party just use different colored nail polish ( dark blue or greens are very fashionable these days.
Eye Masks can be purchased on an budget ad you could add a little bottle of lavender or even a bunch of dried lavender, what a perfect favor.
Homemade lip balms or body scrubs also great ideas that are inexpensive, just have a little look on Pinterest to get ideas or check out these lip balm kits.
Okay so I hope I have given you some inspiration and exciting ideas to host the most amazing Baby shower on a budget and no one will know. I suspect they will think you spent a fortune. it can be our little secret lol
The main point of a baby shower is to shower is to celebrate your friends pending birth of there child and show them your love and support. Remember to have fun yourself
PS: Hosting your friends baby shower can count as your gift to her so don't fell guilty if this is your gift but feel free to give her a present as well that is totally up to you.
–