Merry and Bright Christmas Party Ideas
Getting ready for a Christmas Party and you think you will go with a Merry and Bright theme. We sure need something to brighten things up at the moment, so this would be a perfect theme.
Putting together a Merry and Bright Christmas Party will be loads of fun as you can really go all out if you want.
With Santa and his reindeers on their way what better way to celebrate Christmas than to put together a wonderful Christmas Party.
I am convinced that the following ideas will sure make your Holidays Merry & Bright, with bright colored Decorations and bright colored food and drink
(THIS POST CONTAINS SOME AFFILIATE LINKS FOR YOUR CONVENIENCE: READ MY FULL DISCLOSURE POLICY)
Merry and Bright Invitations
First things first you need to get the invitations out. If you are having a Virtual Christmas Party then you can just send them online. Oh also for a real get together it seems pretty normal these days to send invitation via email or messenger.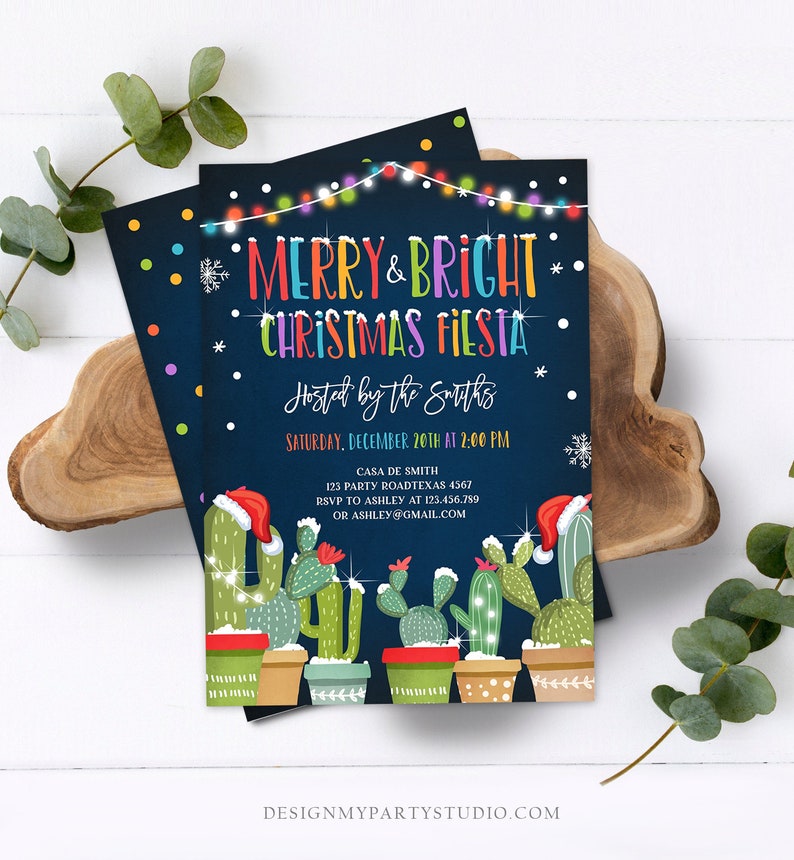 Merry and Bright Christmas Party Invitations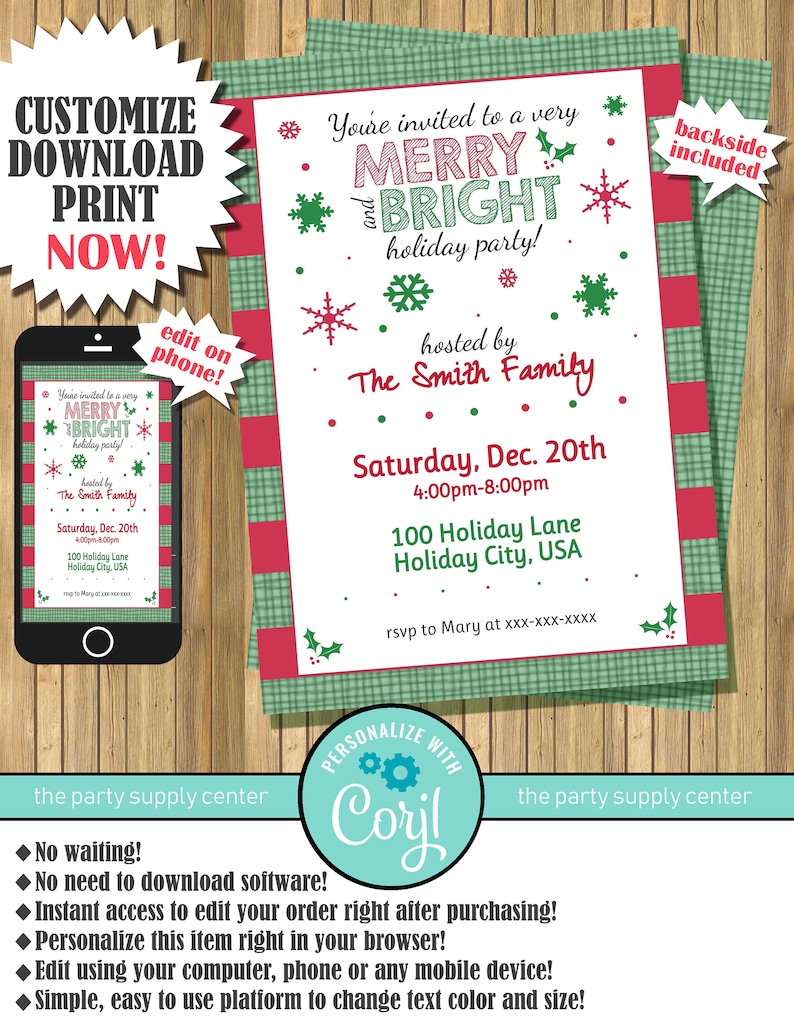 Merry and Bright Christmas Party Invitations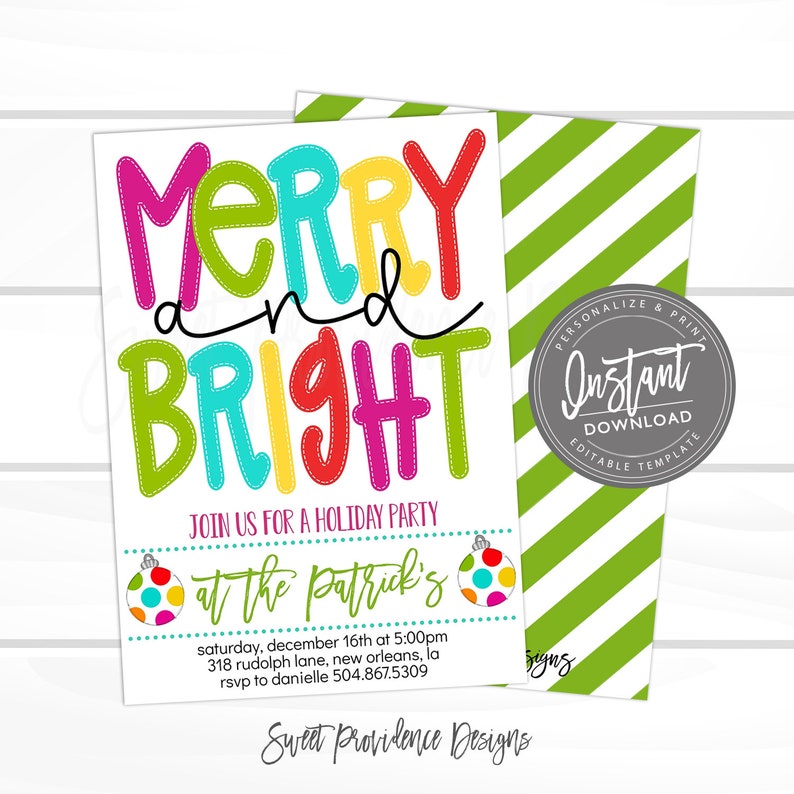 Merry and Bright Christmas Party Invitations

Merry and Bright Decorations
Red Glittery Merry Bright Banner
Merry Christmas Balloon Arch Garland Kit
MERRY CHRISTMAS Balloons – Red & Green
Related: Balloon Garlands questions and answers
Merry & Bright Christmas Burlap Banner
Merry Christmas Banner Party Decoration
Christmas Balloons Merry and Bright
Related: Ugly Christmas Sweater Party Ideas
Christmas Sweets
Christmas Peanut Butter Balls – Scoops of creamy peanut butter, rolled into balls, dipped in white chocolate and covered with sprinkles for the holidays!!
==> Find the recipe for these Merry and Bright Christmas Peanut Butter Balls here
Christmas Pinwheel Cookies
Christmas Pinwheel Cookies are a fun and festive addition to your holiday cookie plate. These mesmerizing and colorful holiday sugar cookies are rolled in sweet sprinkles for extra crunch.
==> Find the recipe for these Christmas Pinwheel Cookies here
Candy Cane Amish Sugar Cookies
Candy cane Amish sugar cookies are simple to make, with no rolling required! These easy drop sugar cookies are crispy on the edges and soft in the middle.
==> Find the recipe of the yummy Candy Cane Amish Sugar Cookies here
Christmas Cookies
Yummy and simple sugar cookies just buy the cookies cutters use your favorite sugar cookie recipe and then decorate them as you please.
Christmas Cookie Cutters
Gel Food Coloring 10 Colors Set
Cranberry Christmas Cake
This Cranberry Christmas Cake is sure to be an instant hit. With tart fresh cranberries and sweet buttery cake that is almost the texture of a coffee cake, your family and friends will be after the recipe for this for sure.
==> Find the recipe for this delicious Cranberry Christmas Cake here
Salty Sweet Crockpot Christmas Candy
Salty Sweet Crockpot Christmas Candy is so delicious. It is so easy to make. By just putting your white chocolate, peanuts , pretzels and raisins all in your slow cooker
==> Find the recipe for this Salty and Sweet Crockpot Christmas Candy Here
Christmas Shortbread Thumbprint Cookies
Make a batch of these Christmas Shortbread Thumbprint Cookies and get ready for a holiday party to break out. They are so cheerful and colorful and delicious that they will instantly get everyone in the mood for a festive holiday party!
==> Find the recipe for these Merry and Bright Shortbread Cookies here
Easy Christmas Sweet Bark
Easy Christmas Bark this is oh so pretty and easy to make dessert with sweet and salty flavors in Christmas colors; ready in a little over an hour!
==>Find the recipe for the Bright Christmas Bark here
Christmas Tree Sugar Cookies
Your family, friends, and neighbors will love these Christmas tree sugar cookies!
==> Find the recipe for these yummy Christmas Tree Sugar Cookies here
Snowmen Meringue Cookies
These snowman-shaped Vegan Meringue Cookies will be a hit for the holidays. They are sweet, crisp, airy and completely adorable!
==> Find the recipe for these Vegan Meringue Snowmen here
Grinch Punch
This colorful family-friendly Grinch Punch is great for festive entertaining since it can be made ahead of time. Easy to make with just 6 everyday ingredients and 5 minutes, so the kiddoes can even do it unsupervised.
==> Find the recipe for this Grinch Punch here
Christmas Wreath Platters
If you're looking for bright Christmas colored foods as well, I have a few! Wow your guests with a bright and stunning Caprese Christmas Wreath Appetizer! Bold red and green classic Christmas colors arranged into the shape of a wreath. This appetizer takes 10 minutes to put together and involves no cooking – just fresh tomatoes, basil, and mozzarella.
==> Find the recipe for Caprese Christmas Wreath Appetizer here
This Antipasto Christmas Wreath is the cutest holiday appetizer! It's ready in just a few minutes and is a lot of fun to make.
==> Find the recipe for this gorgeous Antipasto Christmas Wreath here
Cranberry Salsa is a great festive holiday appetizer featuring fresh or frozen cranberries, onion, lime, jalapeño and cilantro. The salsa is served in a bowl or over cream cheese with crackers on the side. This has become everyone's favorite appetizer!
==> Find the recipe for this yummy Cranberry Salsa here
Merry and Bright Wall Hangings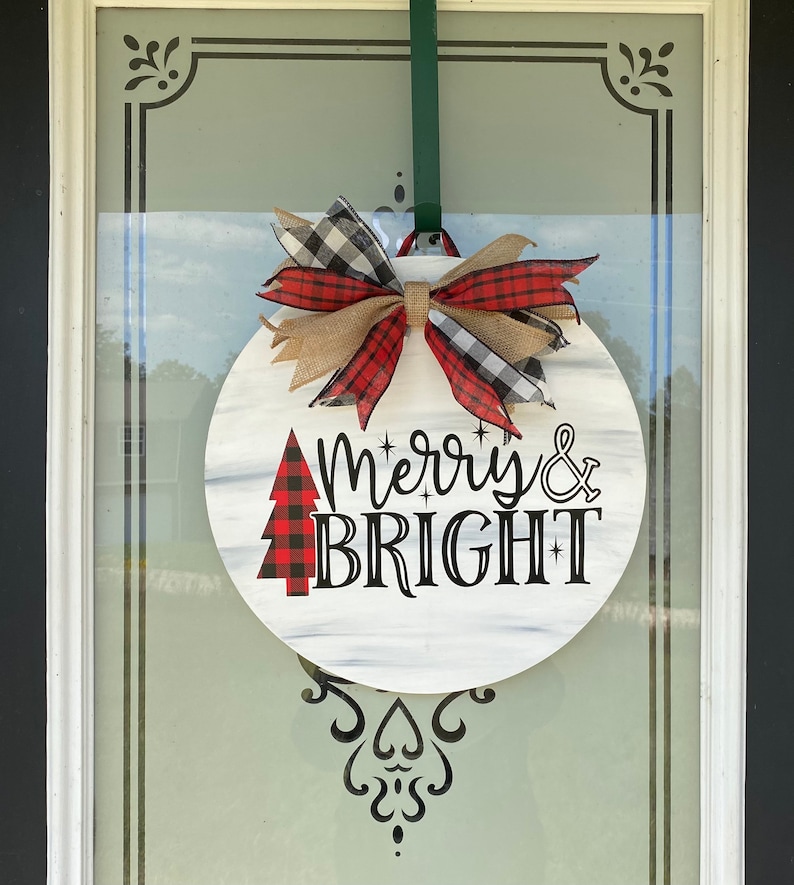 Merry and Bright Wooden Sign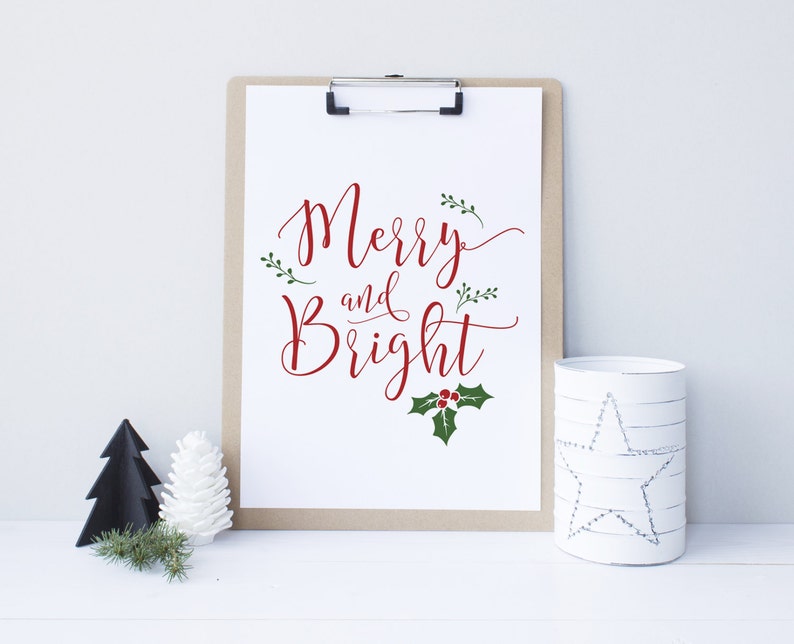 Merry and Bright Printable

Christmas Supplies
North Pole Christmas Mailbox
Christmas Deluxe Santa's Enchanted Mailbox
Kangaroo Merry Christmas Santa Sack
Hope you have found some of these items helpful in making your Merry and Bright Christmas Party fun and inviting.
–