Hot Chocolate Bombs Party Favors
These Hot Cocoa Bombs have been so popular lately and why not they sure make having a hot chocolate a new experience. Wow what a wonderful treat these are.
You can easily DIY these rainbow sprinkles hot chocolate bombs yourself, or give them as party favors at your next party. How amazing would that be at your baby shower. You can change out the rainbow sprinkles for pink and red hearts for Valentines Baby Shower or even change to blue or pink depending what baby shower theme you are going for.
If you are like me and enjoy making this sort of thing and get the kids involved, although the little ones might struggle a little bit as they are quite delicate but they could put them in the hot milk and just watch their little faces light up when they see them explode.
When you pour hot milk over them or drop them slowly into hot milk they melt and magically you will see the marshmallows and hot cocoa ooze out of them.
What is a Hot Chocolate Bomb?
These Hot Chocolate Bombs with rainbow sprinkles are a hollow chocolate shell filled with hot cocoa mix and marshmallows. (some people also add sprinkles inside.) You then place them in a mug, pour on hot milk and watch the marshmallows float to the top and the chocolate melt. Give it a quick stir and you'll have a lovely yummy cozy warm cup of chocolatey goodness.
(THIS POST CONTAINS SOME AFFILIATE LINKS FOR YOUR CONVENIENCE: READ MY FULL DISCLOSURE POLICY)
These Hot Chocolate Bombs would be a great idea for your kids this Christmas, they make a yummy Christmas Drink treat and you can change up the sprinkles to red and green
Where can I buy hot chocolate bombs?
So if you are not planning on making these yourself then don despair you can but these on etsy or you can probably find someone local who makes them.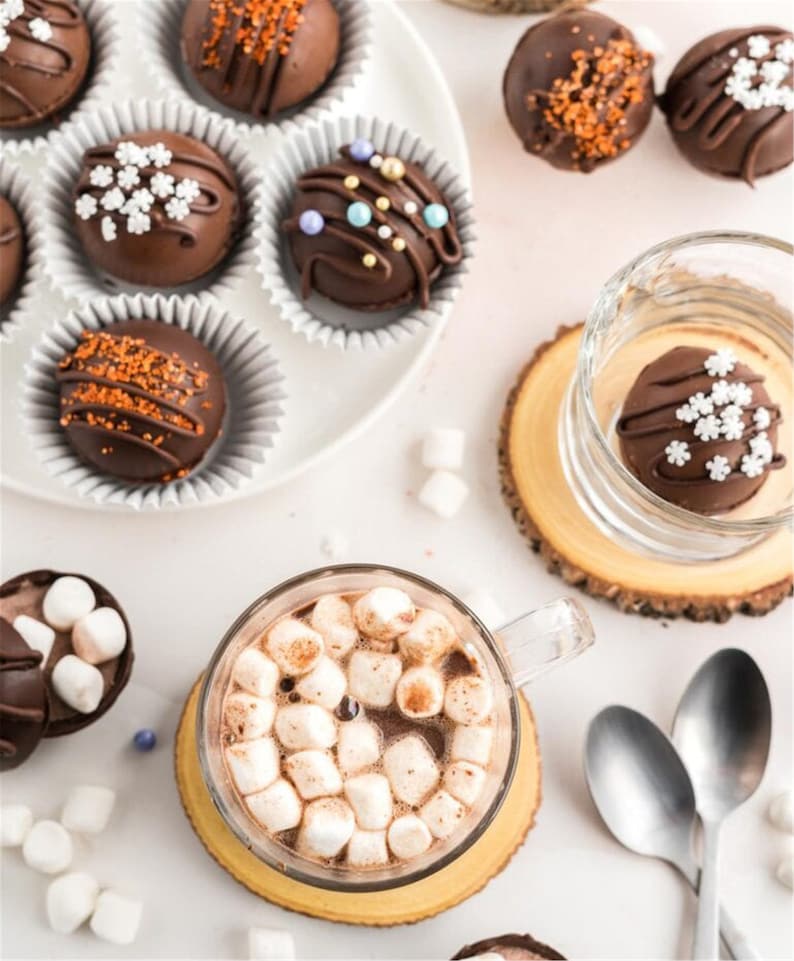 Hot cocoa Bombs With Marshmallows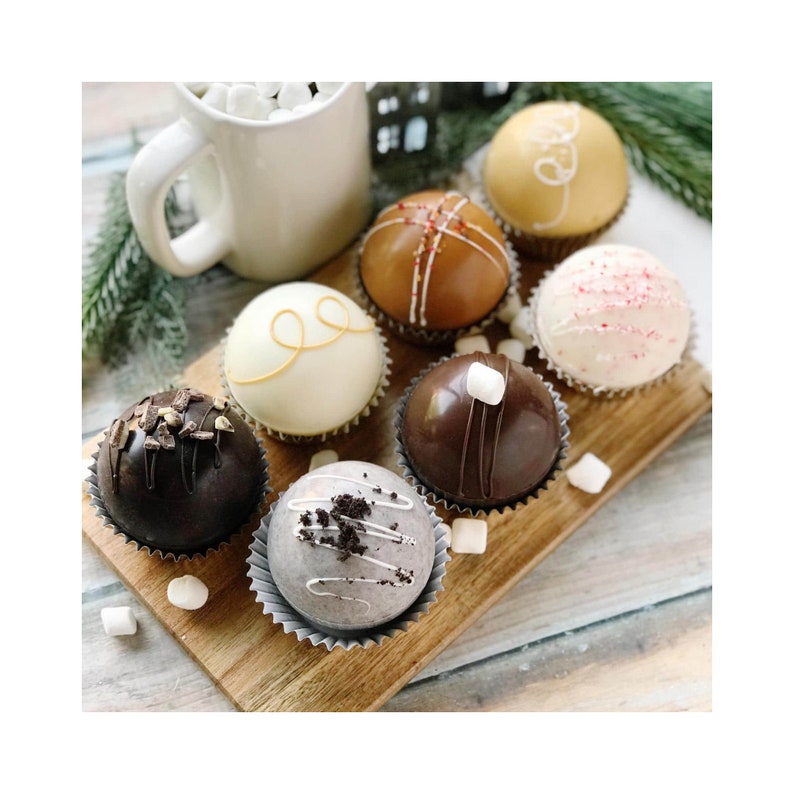 Handmade Hot Chocolate Bombs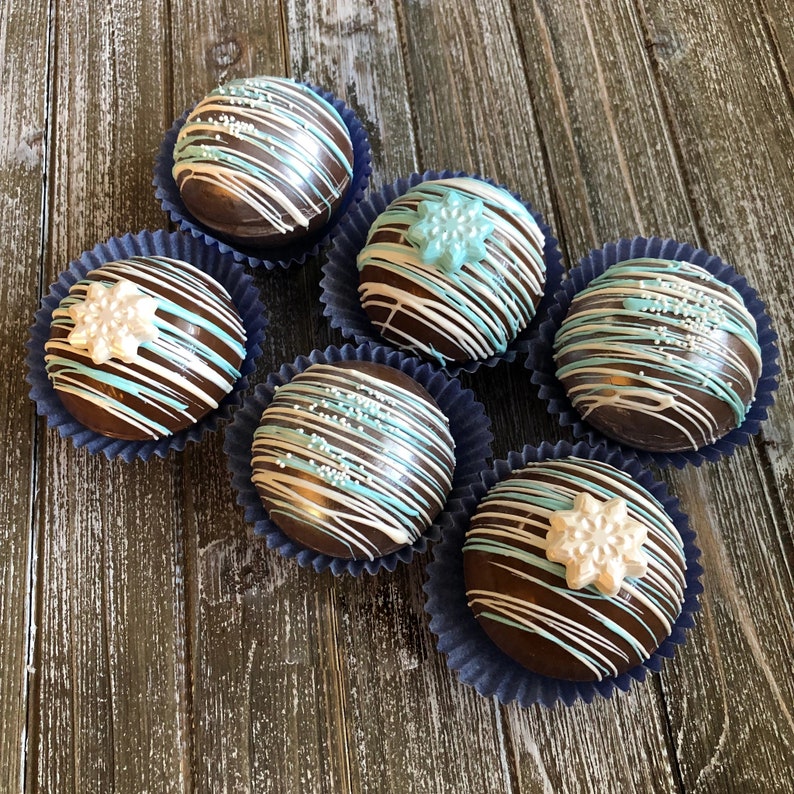 Hot Chocolate Bombs

How do you make a hot chocolate bomb without silicone mold?
Love how this lady has come up with a great idea to make these hot chocolate bombs without having to buy silicone molds.
Hot Chocolate Bombs with Marshmallows
Hot Chocolate Melting Bomb with Mini Marshmallows
Rainbow Sprinkles Hot Cocoa Bombs
What you will need:
Ingredients
1 Cup chocolate melting wafers
6 Tbsp hot chocolate mix
Small amount of white chocolate melting wafers to drizzle and sprinkles to decorate (you can add whatever color sprinkles to match your theme)
Place the chocolate melts in a microwave bowl/jug and microwave for 30seconds, stir then repeat for another 30 seconds. Do not overcook the chocolate or you will then have to start again.
Ghirardelli Melting Chocolate Wafers Milk
Ghirardelli Chocolate White Candy Making Wafer
Ghirardelli Chocolate Dark Melting Wafers
You will need silicone chocolate molds which are easy to come by or you can watch the video above how a lady uses kinder surprise molds. Add 2 tablespoons of melted chocolate to each section. Make sure to completely cover the molds by using the back of the spoon to spread. Be certain to spread the chocolate evenly all the way up to the edges.
Hot Chocolate Bomb Mold
Hot Cocoa Bombs: Fall Favorites
Hot Silicone Chocolate Molds
Place the silicone molds in the freezer for 10 to 15 minutes. You want your chocolate to be completely frozen – It will be easier to manipulate
Carefully remove the chocolate half-spheres from the mold and place them on the baking sheet
==>?Giant Gender Reveal Hot Chocolate Bomb – Video Below
Fill one of the half-spheres with hot chocolate mix. Add a few mini marshmallows into each of the half-spheres you can add sprinkles here if you like as well totally up to you, or some mini chocolate smarties or M&M's
==>?Heart Shaped Hot Chocolate Bombs – Video Below
Warm-up an empty plate by putting it in the microwave for 30 seconds. Place one of the empty chocolate sides on the warm plate to slightly melt the edges then quickly place it on top of the other side already filled with hot chocolate mix.  Repeat for the remaining pieces
Melt the white chocolate in the microwave for 30 seconds or until melted and drizzle it on the chocolate bombs. Top with sprinkles for added color
To Serve
Heat 1 cup milk in microwave or saucepan until hot. Place one hot chocolate bomb in a mug and slowly pour the milk over the top of the hot chocolate bomb. As the chocolate melts, it will open revealing the hot chocolate mix and the marshmallows. Stir and enjoy!
Store your bombs in airtight containers or individual plastic bags until serving.
Wrap these Hot Chocolate Bombs in cellophane and place in a party favor box, what a wonderful gift to give out at your party. You can make up a little instruction card on how to use them or maybe wrap 2 in a box.
Brown Gift Boxes with Stickers
Sturdy Party Favor Gift Box with Lid
Party Favor Gable Boxes Rose Gold
–