Teddy Bear Picnic Birthday Party
(THIS POST CONTAINS SOME AFFILIATE LINKS FOR YOUR CONVENIENCE: READ MY FULL DISCLOSURE POLICY)
Do you remember when you were young and you had the book The Teddy Bears' Picnic? I loved that book and I loved it when at school we had a Teddy Bear Picnic every year.
We would take our favorite soft toy bears in to school and our parents would come and we would have a picnic in the school yard.
So this themed Birthday party has been created around the famous book.
The Teddy Bears' Picnic (Classic Book)
Related: Kids Birthday Party Ideas
Teddy Bear Picnic Invitations
First you will need to send out invitations to all your little friends, to invite you to your Teddy Bear Picnic Party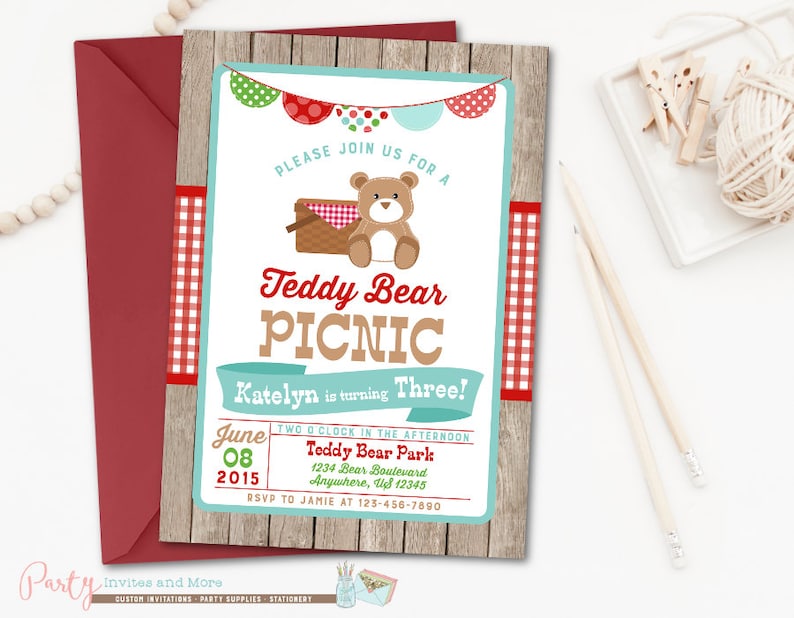 Teddy Bear Picnic Party Invitations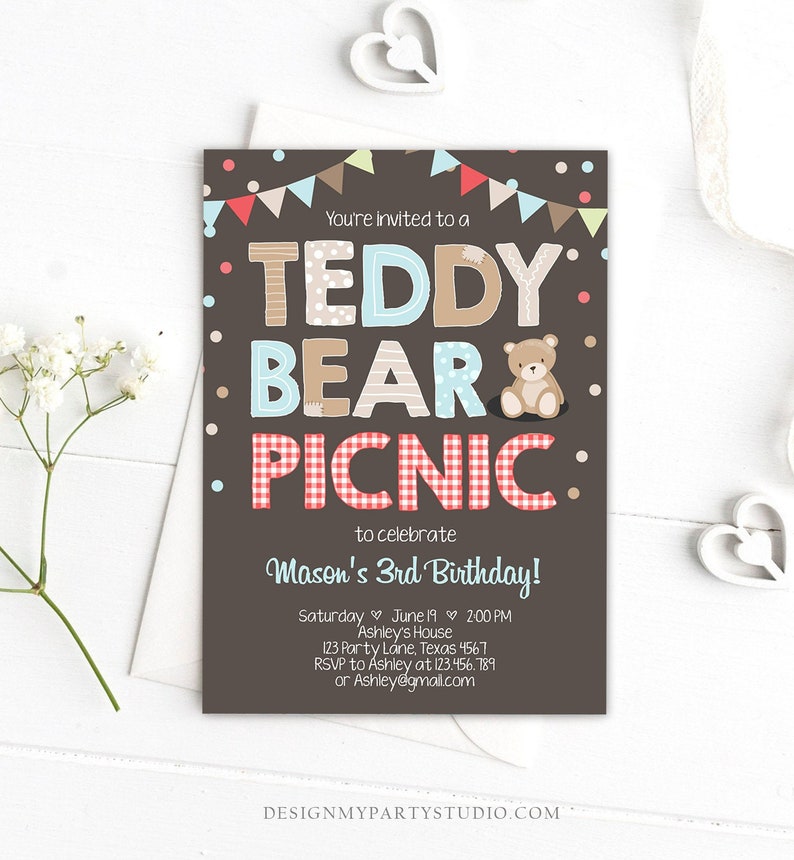 Teddy Bear Picnic Invitations

Teddy Bear Cupcakes
I am sure if you are having Teddy Bear Theme Birthday Party then Teddy Bear Cupcakes are on the menu. If you are talented and can make the sugar little bears yourself then you are lucky. If not then you can buy some little teddy bears to use as cake toppers
Rainbow Bear Figures Cake Topper Toy
Balloon Bear Cake Topper (Resin)
Baby Bear Cake Topper Set
Teddy Bear Party Ideas
I am loving this idea of hanging lots of Baskets from the trees to put your teddies in, the look is like a Hot Air Balloon or just cute to have them sit in the baskets.
Related: Camp Out Party
Teddy Bear Decorations
Having the food inside for your party might be a good idea. So setting up a party table will be on your list and below is a gorgeous colorful party table that looks so inviting, happy and fun.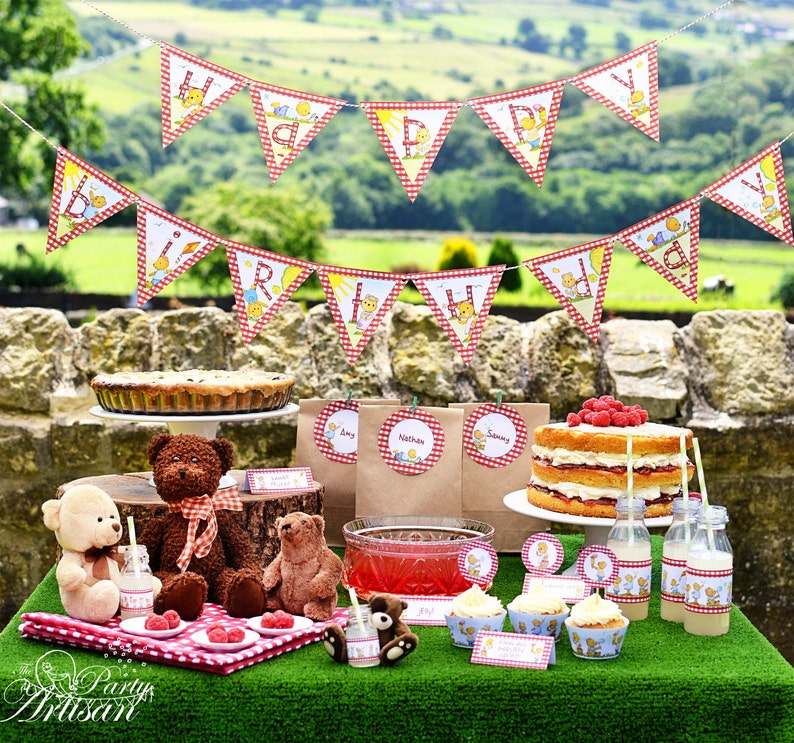 Teddy Bear Picnic Bunting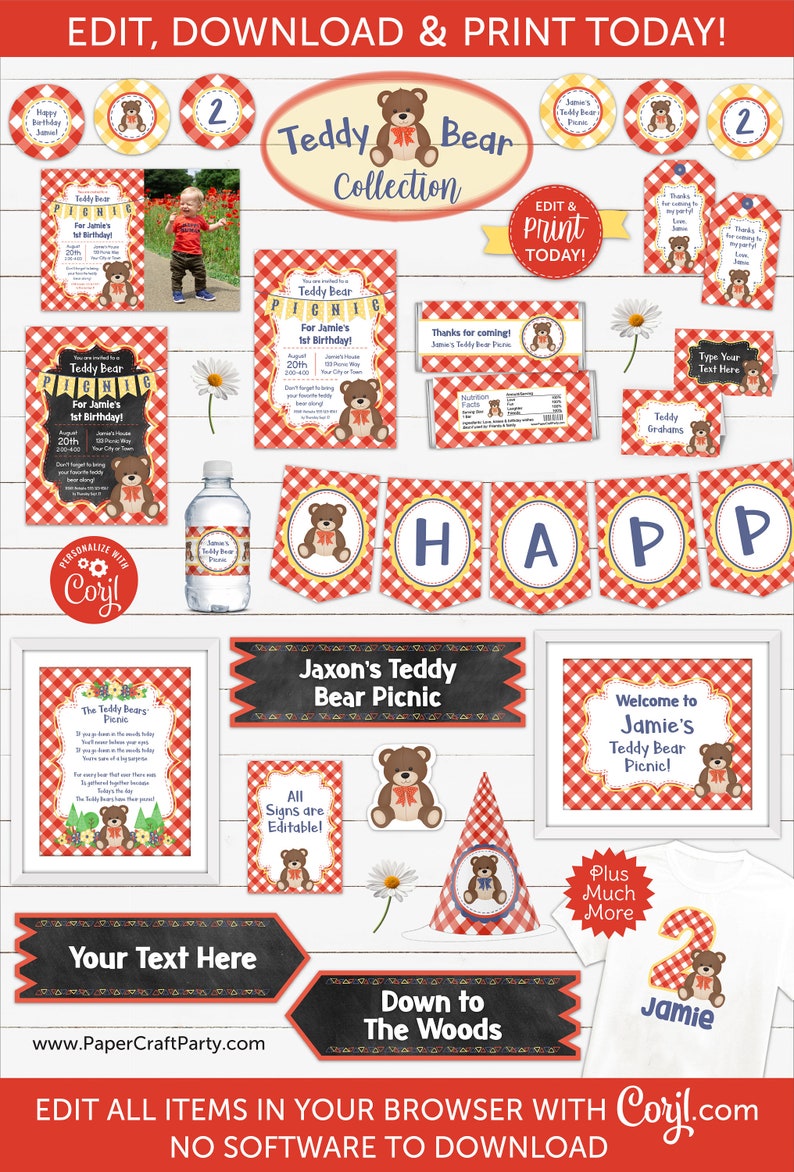 Teddy Bears Picnic Printables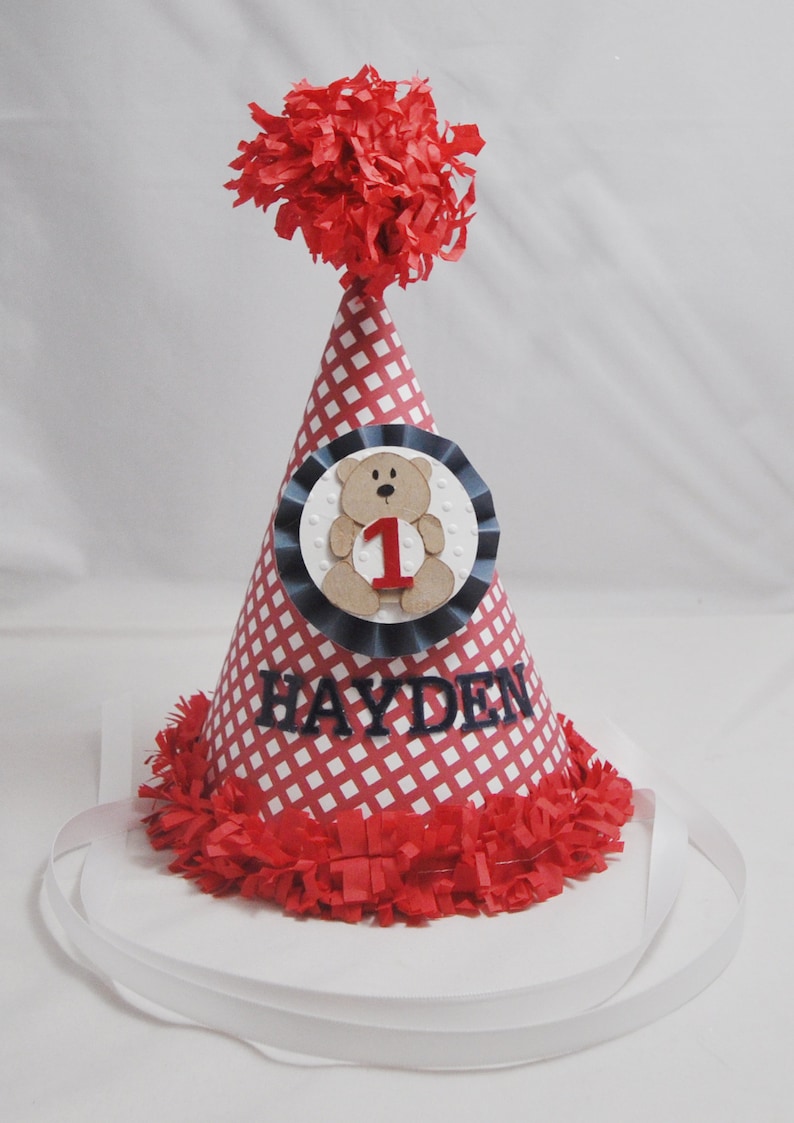 Teddy Bear Birthday Hat
Bring your Teddy Bear
Make sure you put on the invitation that your guests must bring their favorite Teddy Bear. Maybe your should have a couple of spare Teddy Bears just in case someone forgets as then there will be tears I am sure.
Bearington Baby Bensen Brown Plush Stuffed Animal Teddy Bear, 10 inches
Gund Birthday Teddy Bear Animated Musical Stuffed Animal
MorisMos Giant Teddy Bear with Big Footprints Plush Stuffed Animals Light Brown 39 inches
Oitscute Small Baby Teddy Bear with Cloth Cute Stuffed Animal Soft Plush Toy 10
GUND Philbin Teddy Bear Stuffed Animal Plush, Chocolate Brown, 18
Bearington Lil' Kipper Tan Plush Stuffed Animal Teddy Bear, 11.5 inches
Baby GUND My 1st Teddy Bear Stuffed Animal Plush, Tan 15
&nbsp ;
Dress Up Party
If you are thinking of having a dress up party then you had better get your outfit sorted. What are you going to wear?
You could dress up as a Bear or even just your favorite book character. What about overalls and a checkered shirt
Teddy Bear Tea Party
If the weather does not permit to be outside then you could always have a little tea party inside with your Teddy Bears and friends
Having a Kids Birthday Party with the Teddy Bears Picnic theme is a wonderful idea and you really can set the party up however you like. I think if you have the book, then you will be able to get some great ideas from it and then add your own imagination and just do what makes you and your child happy.
Plan A Teddy Bear Picnic Birthday Party With These Party Supplies:
–