Amusement Park Themed Party
The laughter of children, the thrill of adrenaline, and the sweet scent of cotton candy in the air amusement parks are a place where happiness knows no bounds. So, why not bring the joy and excitement of an amusement park to your next celebration? Hosting an "Amusement Park Themed Party" is a fantastic way to create unforgettable memories and enjoy the magic of a fair without leaving your backyard or event venue.
Here, we'll explore various elements that will turn your party into a whirlwind of fun and entertainment, from thrilling rides to carnival games and delectable treats. Get ready to embark on a journey of joy and adventure as we uncover the secrets to hosting an unforgettable Amusement park themed birthday party
(THIS POST CONTAINS SOME AFFILIATE LINKS FOR YOUR CONVENIENCE: READ MY FULL DISCLOSURE POLICY)
Amusement Park Rides Galore
The heart and soul of any amusement park are its thrilling rides, and your amusement park-themed party should be no different. Depending on your budget and space, you can rent or set up various rides like a merry-go-round, Ferris wheel, or even a mini roller coaster. These attractions will be the center of attention and provide an exhilarating experience for your guests. For smaller gatherings, inflatable bounce houses or slides can bring the same sense of excitement and can be easily customized to fit your theme.
Inflatable Giant Colorful Rolling Wheel
Double Dip Inflatable Water Slide Park
Inflatable Dome Rocking Bouncer
Carnival and Amusement Themed Games and Prizes
No amusement park is complete without a collection of classic carnival games. Set up booths where guests can try their hand at ring toss, balloon darts, or the ever-popular duck pond game. Offer tickets for participation and award prizes to winners. Plush toys, candy, and other small trinkets make excellent prizes to keep in line with the amusement park atmosphere. Don't forget to have a "prize booth" where winners can redeem their hard-earned tickets for their favorite goodies!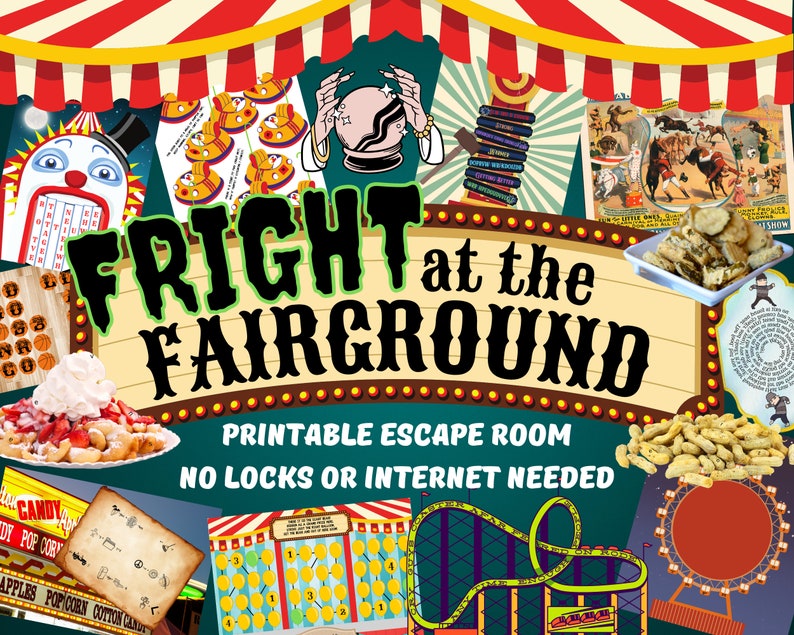 Escape Room Game. Fright at the Fairground Printable Party Kit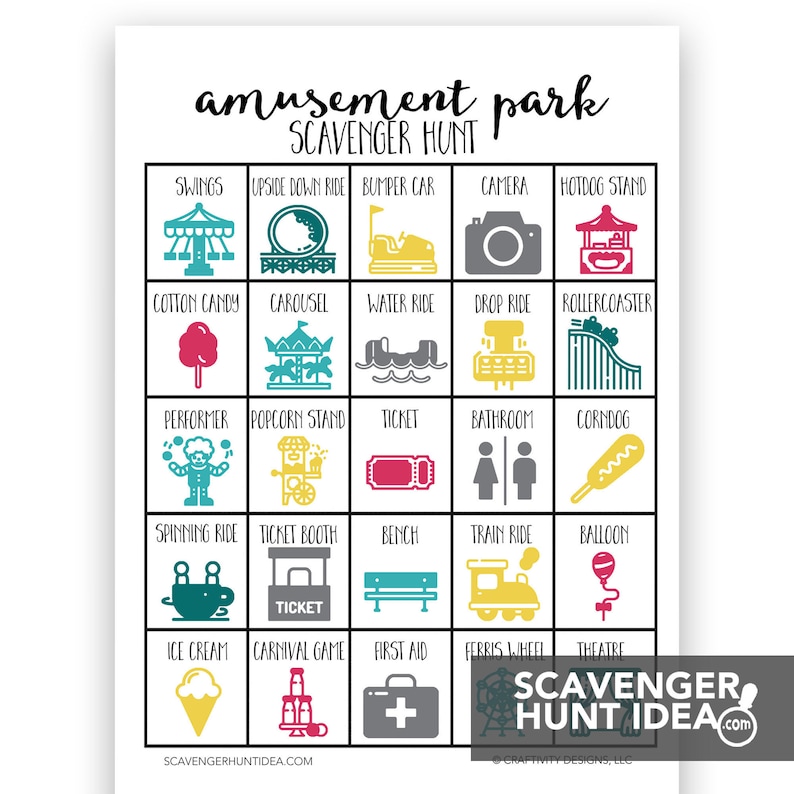 Amusement Park Scavenger Hunt

Themed Decorations
Transform your party venue into a colorful and vibrant amusement park with themed decorations. Bright and bold colors like red, yellow, and blue should dominate the scene. Hang up banners, balloons, and streamers to create a festive ambiance. You can also use signs and posters reminiscent of classic amusement parks to set the mood. Incorporate string lights to recreate the dazzling, magical atmosphere that comes alive after sunset in real amusement parks.
Carnival Amusement Park Background
Amusement Park Backdrop
Carnival Food Delights
One of the most anticipated aspects of an amusement park visit is the food. Treat your guests to a menu of carnival favorites. Cotton candy, popcorn, hot dogs, and funnel cakes are staples that will transport everyone to the fairground instantly. For the adults, set up a lemonade stand and offer a selection of craft beers or cocktails in mason jars. To add a personal touch, you can create custom food labels and menus that match the theme.
Costumes and Photo Booth
Encourage your guests to embrace the amusement park spirit by wearing costumes or outfits reminiscent of carnival workers, clowns, or even their favorite amusement park characters. Set up a photo booth with props and backdrops to capture the fun and laughter. This will provide memorable keepsakes for your guests and add to the overall enjoyment of the party.
Roller Coaster Backdrop
Carnival Circus Photo Booth Props
Circus Photo Booth Props
Incorporating the magic and thrill of an amusement park into your celebration can create an unforgettable experience for all your guests. From thrilling rides to classic games, colorful decorations, and delicious carnival food, your "Amusement Park Themed Party" is sure to be a roaring success. With careful planning and attention to detail, you can turn your backyard or event venue into a captivating and entertaining wonderland.
So, gather your friends and family, and let the joy and excitement of the amusement park fill the air. Your guests will leave with hearts full of fun and cherished memories that will last a lifetime. Hosting an Amusement Park Themed Party is like stepping into a world of endless laughter, where the only limits are your imagination!